USE "MYCARE10" TODAY FOR £10 OFF YOUR ALARM
PLEASE READ THESE TERMS AND CONDITIONS CAREFULLY. YOU AGREE TO BE BOUND BY THE TERMS AND CONDITIONS BELOW IF YOU PURCHASE PERSONAL ALARM FROM DOCTOR ALERT. IF WE AMEND THESE TERMS AND CONDITIONS, WE WILL NOTIFY YOU BY POSTING THE AMENDMENTS TO THIS WEBSITE. THE TERMS AND CONDITIONS WILL STAND AS OF THE DATE OF POST. THESE TERMS AND CONDITIONS MAY BE AMENDED ON THIS WEBSITE. ONCE YOU PURCHASE A MEMBERSHIP, THE TERMS AND CONDITIONS ON THIS PAGE Will APPLY FOR THE EXTENSION OF YOUR MEMBERSHIP. DO NOT BUY FROM DOCTOR ALERT IF YOU DO NOT AGREE WITH THE TERMS AND CONDITIONS.
Here are the terms and conditions for using The Doctor Alert Foundation. All of our services ('services'), products ('products'), this website and your My Doctor Alert account are subject to these terms and conditions. Using this website, creating an account on My Doctor Alert, and/or placing an order constitutes your agreement with us and your acceptance of the terms and conditions listed below.
This website may not be used by you if you do not agree to be bound by these terms and conditions.
access or change your these terms and conditions,,
use our service or
purchase our products.
Contact our Support Team by email at [email protected] or by phone at 0800 066 2507 with any questions about these Terms and Conditions.
Definitions
The following terms and conditions are defined as follows:
A "Active Acceptance" is your declaration of acceptance of the Contract on the Order Form (in whatever format that Order Form is submitted).
The Advocate is the person identified on the Order Form as being the individual with whose consent You authorise Us to discuss Personal Information with and/or to receive updates or changes to Personal Information from;
An authorised representative is someone identified on the Order Form as one of the following:
Parents of Minors or guardians of Vulnerable Members; &
Vulnerable members, i.e., their parents or guardians; & Vulnerable Member; and/or
Vulnerable Member – a professional who must provide care to them;
"Contract" refers to the agreement between you and Us for the provision of the Service or Goods;
"Device" refers to any item to be engraved with Your main medical conditions as described herein in accordance with this process, Your Membership Number and the Emergency Service telephone number;
"Emergency Service" is Us providing You access to a 24-hour telephone helpline where professionals have access to the Personal Information You provided us;
"Controller, data controller, processor, processor, data subject, personal data, processing, and appropriate technical and organisational measures" shall have the same meaning as set out in the legislation at the time of their respective definitions.
"Force Majeure Event" refers to any unforeseen event or circumstance beyond the control of the parties.
A "Goods" is any product that You order from Us or for which We provide you with, including but not limited to Devices;
During a "Lapsed Phase," your Personal Information cannot be accessed by the Emergency Services.
An individual whose name appears on The Doctor Alert's Order Form is referred to as a "Member".
"Offer" refers to Our proposal to You for Goods and/or Service based on Your Order;
"Order" refers to your request for Goods or Services from Us;
In order to provide the Service and/or Goods ordered by You with Us, we will provide You with an Order Form (electronic or paper).
Membership Number refers to the unique identification number (Invoice ID) which We assign to you for purposes of identification in our records;
"Privacy Policy" means our policy for collecting, using, and disclosing Member information as outlined in the Privacy Notice;
"Service" refers to the provision of a Device to a Member by the Emergency Service;
As defined in clause 1.1, "Shared Personal Data" refers to the data being shared between the parties. Sharing Personal Information shall constitute shared personal data.
"Minor" is a member who is under the age of 18 "Vulnerable Member" is a member who meets one of the following requirements:
Incapable of giving informed consent; and/or
Lacking the ability to give informed consent; and/or entering into this Contract themselves;
"We"/"Us"/ "Our" is The Doctor Alert registered in England under number 10685122, at 1 Scallows Close, Crawley, RH10 1QP, United Kingdom.
"Website" means www.doctoralert.co.uk
In this Contract, "You / Your" is any person with whom We enter into a legal relationship, who may be either:
the Member; or
the Advocate of a Member
Members of the Vulnerable Group can designate an Authorised Representative.
1)  Your order
1.1 You will receive an Order Form (either by You or by Us) containing the Personal Information you provide to Us when you apply for membership.
1.2 By submitting the Order Form (online, by telephone, or via mail) you will be deemed to have Actively Accepted these terms and conditions, and you will be deemed to have entered into a legally binding Contract with Us.
In addition to these terms and conditions, the Order Form and the Privacy Policy are incorporated herein.
1.3 We will send you an email or letter to confirm your order and to provide access to the terms and conditions if you place your order over the phone. Our website also contains the terms and conditions. If you do not accept those terms and conditions, you have 48 hours to notify us. We will be free from any liability if you notify us of your rejection of those terms and conditions.
1.4 We may refuse to do any of the following at our sole discretion:
I will accept your Orders or
make an Offer to You.
2)  The service we provide to our members
2.1 Member Personal Information will be released as necessary to assist with medical treatment or provide other support.
2.2 You consent to the transfer of your data outside the EU for the purposes described in these Terms and Conditions by entering into this contract.
3)  What you need to do to receive the service and/or the goods
3.1 The Personal Information that We hold may be discussed with You and/or any Advocates and updates and amendments may be received from them. By written notice to Us, We and/or You may revoke the status of an Advocate at any time. If there are multiple Advocates on Your Order Form, any Personal Information can be amended by any Advocate on Your Order Form.
3.2 If the Personal Information provided by you differs from what We have, we will have the right to disregard the discrepancy until we verify it with:
you and/or
Professional duty and as you have notified Us.
3.3 When you agree to these Terms and Conditions and Our Privacy Policy, you consent to the use and release of your Personal Information in accordance with these Terms and Conditions.
3.4 If you need to use our services in an emergency and provide us with your Personal Information, you understand it could be critical. In addition, we recognize that You are the one responsible for making sure your Personal Information is accurate, up-to-date, complete, and truthful.
3.5 Upon request, You will check all Personal Information We hold and inform Us immediately if any errors or changes occur. Printouts of your data can be requested at any time.
3.6 In order to maintain the accuracy and completeness of Your Personal Information, It is Your responsibility to inform Us of any changes to Your Personal Information promptly. You agree that We must keep Your Personal Information updated, and that if You fail to do so, We may be unable to provide accurate information about You when calls are made to the Emergency Service.
3.7 You will at a minimum review the Personal Information regularly and notify Us of any changes.
3.8 In order to use the Device, only the Member can do so. If all information is accurate, the device should only be worn by the member.
3.9 A physician or emergency clinician may be unable to identify a Member's condition as readily if the Device is not worn by the Member. This fact is acknowledged by the Member and he/she assumes all associated risks.
3.10 If an Authorised Representative is acting on behalf of a Vulnerable Member, We may assume that the Authorised Representative has authority to act.
3.11 We assume that You have authorised a representative to act on your behalf if You designate an Advocate.
3.12 You will receive a login and a password from Us if, at any time, you wish to access your personal details and medical records through the website. We ask that you keep these confidential. You agree to receive all member communications via email as part of granting access to your profile on our website. Upon request, you may also receive marketing information.
4)  Price and payment
4.1 The price for the Goods (including delivery charges and VAT) and Services will be as set out on the Order Form. The monthly monitoring fee for the Services will be payable on each and every date on which the Contract was first entered into or the next business day. We shall be entitled to increase the fee for the Services at any time by giving you notice of such increase at least 1 month prior to the date on which the next monitoring fee becomes due.
4.2 The monthly monitoring fee can be paid by direct debit or another payment method available at the time of renewal.
4.3 By returning the signatory Order Form to Us, or by providing payment details over the telephone, or by making payment online when you submit your Order Form, you will be required to pay for the Goods and Services in pounds sterling or euros (as indicated).
4.4 The Goods or Services will not be delivered or provided until payment in full and cleared funds have been received.
4.5 If the Advocate is provided with the billing information, they can pay the fee.
4.6 If you fail to pay the monitoring fee, We shall be entitled to terminate the Contract, insofar as it relates to the Services and any Goods which have not been delivered to you, with immediate effect and You will no longer have access to the Emergency Service. If You are unable to pay because of financial or other difficulties, rebates may be available. Contact us if required.
5)  Delivery of the goods you order from us
5.1 Within 14 working days of receiving the Order Form, we will deliver the Goods to the address You provided.
5.2 Ownership of the Goods passes to you upon delivery to the address that you have specified. When the Goods are delivered to You, they are Your responsibility and we are not liable for their loss, standard wear and tear or destruction.
5.3 After the Goods are delivered to your chosen delivery address, you will become the owner of the Goods.he wording of Your Device.
6)  Warranty for the goods
6.1 The warranty begins when the product is shipped.
6.2 If the Goods are defective during this period, we can either replace the Goods or repair them.
6.3 This warranty does not apply to: repairs made by anyone but our skilled jewelry technicians; products damaged by everyday use; silver tarnishing; scratches to the disc, chain, or attachments; misuse or accidents; lost or misplaced products; and changes to the engraved information.
6.4You are not entitled to any statutory rights under this guarantee.
7)  Data protection
7.1 Our Privacy Policy explains Our approach to data security and personal data privacy, which may be updated as and when needed.
7.2 Adherence to the General Data Protection Regulation ((EU) 2016/679) ("GDPR"):
7.2.1 We follow the eight principles of data protection as outlined in The Protection Act 1998 and GDPR.
7.2.2 The data we retain is only used to provide the Service.
7.3 GDPR
In accordance with GDPR, we are the data controller
8)  Force majeure
In the event of a Force Majeure Event, neither party is in breach of this Contract nor is liable for any delay in performing, or failure to perform, any of its obligations under this Contract.
9)  Cancellation of orders and refunds
9.1 After placing an order, you may terminate the contract at any time, but any entitlement to a refund will only be determined after thorough review by our relationship officers. Contact us by mail, email, or telephone to terminate a contract.
9.2 You can contact our membership service department if you wish to return an item that has not been personalised. All returns must be in their original packaging, new and unused.
The customer is responsible for postage on returns. We will refund you in your original method of payment within 3 to 5 weeks for non-personalised items.
10)  Termination
10.1This Contract may be terminated immediately by written notice if:
10.1.1 Failing to pay any bills when they are due; and/or
10.1.2 If You breach any part of the Contract, including providing inaccurate Personal Information, and if it is remediable, you are in breach (and, if it is remediable, you are in breach within 14 days of receiving notice requiring it to be remedied).
10.1.3 We may terminate this Contract upon written notice from You. Your obligations are cancelled. We will delete Your Personal Information from Our records if we are unable to provide the Services as we agreed, provided that in the event of termination of this Contract, the following circumstances occur: (a) You give us notice of termination using the form We provide from time to time; (b) The Member returns and/or destroys all the Devices; and (c) We have no obligation to You or any third party if We remove Personal Information at Your request. (c) If this Contract is terminated, and you continue to wear the Device, We have no duty to you as to providing you with the Emergency Service or maintaining your Personal Information.
10.2 The Member must stop wearing the Device after termination of the Contract as this could cause confusion in the event of an emergency. Please destroy or return the Device to us. Similar to the previous recommendation, the bracelet should not be worn by anyone other than the wearer.
10.3 We will enter a Lapsed Phase when we do not receive payment, as we no longer have your consent to share this information. During this Lapsed Phase, it will remain for six months. After this time, your personal information will be removed and your record anonymized. During the Lapsed Phase, you have the option to remove your data. Our Privacy Policy explains our full policy regarding data retention, so please read that for more information.
10.4 Minor Members who turn 18 will be offered the chance to enter into their own contract when they reach the age of 18. Even if the contract is terminated in such a case, We will keep the Personal Information We have at the time on the Member until such time as the Member contacts Us.
11)  Intellectual property and right to use
11.1 All copyright, trademarks, and other intellectual property rights, including all copyright, are acknowledged and agreed to by you. Any intellectual property rights in the content on the Website remain ours or our licensors'. Please only use this material if we or our licensors have specifically authorised its use.
11.2 If you access and use this Website, you acknowledge and agree that it is intended for use solely for your personal, non-commercial purposes, and that you may download the materials and content to one computer hard drive in such a manner (if you make a Purchase). No other use may be made of material or content on the Website. You agree to refrain from copying, reproducing, transmitting, publishing, displaying, distributing, exploiting commercially, or creating derivative works from these materials.
12)  Third party links
In order to increase the value of our services for our Users, we may provide links to other websites or resources that you can access at your discretion. You acknowledge and agree that, as you have chosen to enter the linked website we are not responsible for the availability of such external sites or resources, and do not control, endorse, or bear any responsibility whatsoever for the content or practices of these websites, including (without limitation) any advertising, content, products, goods or other materials or services on or available from such websites or resources or (iii) the use to which others make of these websites or resources, nor for any damage, loss or offence caused or alleged to be caused by, or in connection with, the use of or reliance on any such advertising, content, products, or services available on external sites.
13)  Notices
13.1 Any notice given under or in connection with the Contract must be written and delivered by hand or by pre-paid first-class post or other next-day delivery service at the address of the party receiving the notice (if a company) or its principal place of business (if any other party);
13.2 The following notices are considered received:
13.2.1 if delivered by hand, by signature of the delivery receipt; and
13.2.2 If delivered by hand, by signing the delivery receipt. service, at 9.00 am on the second Business Day after posting.
13.3 This clause does not apply to the service of proceedings or other documents in any legal action or, if applicable, to any other method for resolving a dispute.
14)  Charitable Communications
 By signing up for a membership in Doctor Alert, you agree that Dr. Alert may email or mail you communications concerning Dr. Alert's fundraising initiatives and charitable projects.
15)  Third party rights
 Under the Contracts (Rights of Third Parties) Act 1999, the Contract cannot be enforced by a third party unless it expressly states otherwise.
16)  Governing Law 
Contracts and all disputes and claims (including non-contractual disputes or claims) arising out of or in connection with them or their subject matter or formation shall be governed and construed according to the laws of England and Wales.
17)  Jurisdiction
In relation to any dispute arising out of or in connection with the Contract or the subject matter or formation thereof, each party irrevocably agrees to submit to the exclusive jurisdiction of the courts of England and Wales.
Get a detailed description of the Doctor alert alarm devices by contacting us today.
Our customer service representatives are always ready to help!
Customer Testimonials
You will find here the stories of those who have trusted us over the years and benefited from it in times of crisis!
"I bought this for my mother so we would have peace of mind since she lives alone. The experience so far has been good and setting it up over the phone was very simple."
"I found the staff to be very helpful in solving my problem. The staff were very courteous and helpful in setting up the device. I felt very safe once the alarm system was set up, and I didn't need to worry about falling anymore."
"Doctor Alert is a phenomenal service, so helpful. I had no problems setting up the alarms and their professionals were helpful in resolving signal problems."
"I had excellent service when I last needed assistance. Call was answered promptly and was helpful with my needs. Ambulance was called promptly and arrived ASAP. Thanks for your wonderful service."
NEW TO MEDICAL ALERT DEVICES?
Request a Buyer's Guide.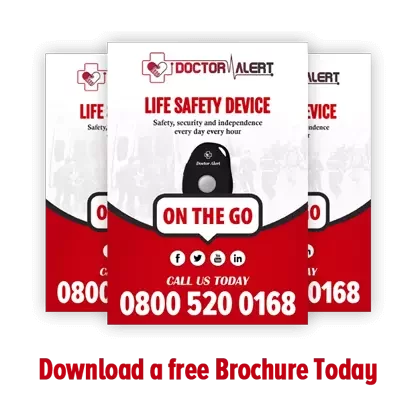 Subscribe to our Newsletter