USE "MYCARE10" TODAY FOR £10 OFF YOUR ALARM
Doctor Alert's Privacy Policy governs how medical-related information is collected, used, maintained, and disclosed by users of the www.doctoralert.co.uk website (http://www.doctoralert.co.uk/). Doctor Alert offers its products and services on the Site and this policy applies to them all
Unless otherwise stated, the data controller for the purposes of the Data Protection Act 1998 (the Act) is Doctor Alert, 1 Scallows Close, Crawley, United Kingdom, RH10 1QP.
Personal

identification information
You may provide personal identification information about yourself by visiting our site, placing an order, subscribing to our newsletter, responding to a survey, filling out a form, and in connection with other activities, services, features or resources we make available on our Site ("https:// www.doctoralert.co.uk/"). It is possible to request name, email address, mailing address, and phone number from users. Our Site can be accessed anonymously by users. Unless Users voluntarily submit such information to us, we will not collect personal identification information about them. If a user refuses to provide personal information, they may not be able to participate in certain activities related to the Site.
Non-personal identification information
It is possible for non-personal identification information about Users to be collected through interactions with the Site. Non-personally identifiable information may include:
Information about your computer, including  your Internet Protocol (IP) address, your login information, browser version and type, time zone setting,  browser plug-ins types and versions, operating system and platform, OTHER; information about your visit, including the full Uniform Resource Locators (URL), clickstream to, through and from our site (including date and time), products you viewed or searched for' page response times, download errors, length of visits to certain pages, page interaction information (such as scrolling, clicks, and mouse-overs), methods used to browse away from the page, OTHER and any phone number used to call our customer service number.
Get a detailed description of the Doctor alert alarm devices by contacting us today.
Our customer service representatives are always ready to help!
Customer Testimonials
You will find here the stories of those who have trusted us over the years and benefited from it in times of crisis!
"I bought this for my mother so we would have peace of mind since she lives alone. The experience so far has been good and setting it up over the phone was very simple."
"I found the staff to be very helpful in solving my problem. The staff were very courteous and helpful in setting up the device. I felt very safe once the alarm system was set up, and I didn't need to worry about falling anymore."
"Doctor Alert is a phenomenal service, so helpful. I had no problems setting up the alarms and their professionals were helpful in resolving signal problems."
"I had excellent service when I last needed assistance. Call was answered promptly and was helpful with my needs. Ambulance was called promptly and arrived ASAP. Thanks for your wonderful service."
NEW TO MEDICAL ALERT DEVICES?
Request a Buyer's Guide.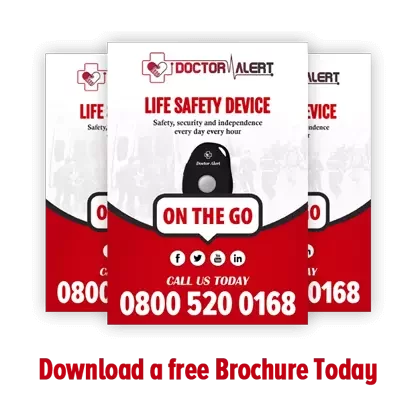 Subscribe to our Newsletter