USE "MYCARE10" TODAY FOR £10 OFF YOUR ALARM
Exceptional customer service is what we strive for at Doctor Alert. We The time it takes to ship your order doesn't interest you. That's why we provide FedEx or Royal Mail Second Class Post for all orders within the UK mainland. As a result, your parcel should arrive within 14 business days.
[An order received before 3pm on a working day will be shipped the same day!]
Despite our commitment to dispatch your order quickly, it should be kept in mind that parcels may not always reach their destination within this timeframe, and they can occasionally be delayed. Sending parcels to Scotland, Northern Ireland, the Isle of Man, the Isles of Scilly, the Channel Islands, the rest of Europe, and the rest of the world may take more time.
If we are unable to ship any part of your order overseas, we will notify you by email.
What is the shipping method for my parcel to reach the UK mainland? 
It should take 14 working days for the standard postage to be delivered via Royal Mail Second Class. Please check with your local sorting office if the item does not arrive within this time frame to ensure that it is not being held for you. Due to Royal Mail's policy, an item is not considered missing until 15 working days have passed. If the item is still deliverable at that time, it is not considered missing. We won't be able to replace undelivered orders until after this point.
Orders that contain multiple items or large items will be shipped via courier and should take approximately 14 business days to arrive.
The Republic of Ireland: How will my item(s) be delivered?
Consequently, all items will be sent via [FedEx or DHL] because we were able to get extremely good courier rates to the Republic.
Where will my item(s) go after I order them?
Our decision to send all items to the rest of the world by Courier is due to Royal Mail AirMail's lack of tracking and it's time to deliver. We pay more for the higher-quality service.
Our shipping charges have been calculated as accurately as possible, however we may occasionally not be able to cover the full cost. We will offer you the option of either paying the additional amount or cancelling your order and issuing a full refund if needed.
Upon dispatching my order, how will I know?
An email notification will be sent to you once your order has been dispatched.
Help! What should I do since I have not received my parcel?
If you need help, please contact us. The local sorting office will often hold items that haven't been received by Royal Mail. There is a specific procedure we can follow if a parcel is lost by the Royal Mail.
The online tracking system of [FedEx or DHL] will allow us to track and trace your order if it has been dispatched by them. You will receive a refund less the cost of postage to Doctor Alert if your item is not collected and returned to us for delivery to Europe and the rest of the world. Once two weeks have passed since the items have not been received, they will be deemed missing.
Get a detailed description of the Doctor alert alarm devices by contacting us today.
Our customer service representatives are always ready to help!
Customer Testimonials
You will find here the stories of those who have trusted us over the years and benefited from it in times of crisis!
"I bought this for my mother so we would have peace of mind since she lives alone. The experience so far has been good and setting it up over the phone was very simple."
"I found the staff to be very helpful in solving my problem. The staff were very courteous and helpful in setting up the device. I felt very safe once the alarm system was set up, and I didn't need to worry about falling anymore."
"Doctor Alert is a phenomenal service, so helpful. I had no problems setting up the alarms and their professionals were helpful in resolving signal problems."
"I had excellent service when I last needed assistance. Call was answered promptly and was helpful with my needs. Ambulance was called promptly and arrived ASAP. Thanks for your wonderful service."
NEW TO MEDICAL ALERT DEVICES?
Request a Buyer's Guide.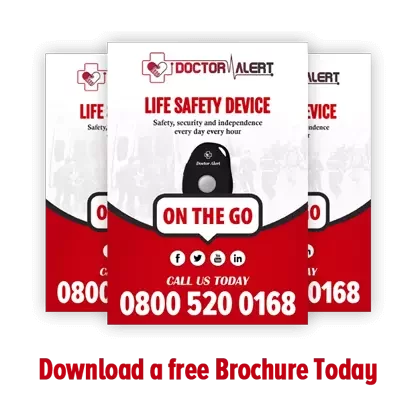 Subscribe to our Newsletter