USE "MYCARE10" TODAY FOR £10 OFF YOUR ALARM
Costs of healthcare are rising
It is becoming increasingly common for seniors to stay in their homes for as long as possible. The demand to keep seniors safe and healthy has never been higher, despite growing aging populations and increasing healthcare costs. Falls are a significant risk. You need all the help you can get to manage or provide care in a hospital.
What Doctor Alert can do for you?
Our team of doctors and innovators combine experience and innovation to help you provide seniors in your community with the best care. Keeping seniors connected prior to, during and after care is provided is possible with our senior monitoring products and services. Offering Doctor Alert to seniors in your community could be a new revenue stream for your organization, resulting in increased peace of mind, reducing readmissions, reducing costs, and reducing patient anxiety.
Care and business services that add value
You can improve patient care with new services that will allow you to grow your network, monitor patients, and connect with professionals and family members.
Monitoring Doctor Alert
Take advantage of Doctor Alert's world-class central monitoring service to manage injury risks and provide rapid-response emergency care for patients.
Third-Party Notification
In the event of an incident, notify third-party physicians, caregivers, or family members by fax.



Connect with Doctor Alert
With hundreds of customizable marketing tools, you can easily manage subscriber information and grow your network.
Partnerlink
Social networking sites offer a way to connect with colleagues and share information.
A flexible business model
We understand that each organization has its own unique goals. We have designed our business models to help you run your Doctor Alert Program in the most efficient and effective way.



OneSource
Our comprehensive service handles every aspect of your daily operations, while you focus on marketing and expanding your reach.



Equipment Leasing
Our monitoring is world-class, so you don't have to worry about the costs and maintenance of owning your own monitoring system.



Equipment Purchasing
Doctor Alert Program is operated and marketed however you wish, and you purchase equipment as needed.
Product Feed
Only for Merchants & Affiliates.

Browse other Doctor Alert Solutions
You operate and market your Doctor Alert Program the way you like, and purchase equipment as you need it.
Get a detailed description of the Doctor alert alarm devices by contacting us today.
Our customer service representatives are always ready to help!
Customer Testimonials
You will find here the stories of those who have trusted us over the years and benefited from it in times of crisis!
"I bought this for my mother so we would have peace of mind since she lives alone. The experience so far has been good and setting it up over the phone was very simple."
"I found the staff to be very helpful in solving my problem. The staff were very courteous and helpful in setting up the device. I felt very safe once the alarm system was set up, and I didn't need to worry about falling anymore."
"Doctor Alert is a phenomenal service, so helpful. I had no problems setting up the alarms and their professionals were helpful in resolving signal problems."
"I had excellent service when I last needed assistance. Call was answered promptly and was helpful with my needs. Ambulance was called promptly and arrived ASAP. Thanks for your wonderful service."
NEW TO MEDICAL ALERT DEVICES?
Request a Buyer's Guide.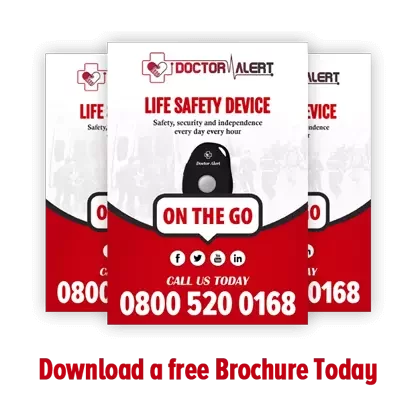 Subscribe to our Newsletter